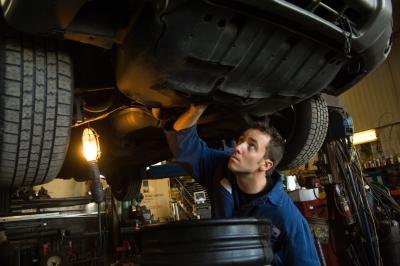 The 2001 Mercedes E320 is equipped with a sensor on the brake pads that controls a warning light on the dash that tells the driver when it is time to change them. The sensor is supplied with a 12-volt signal at all times, and when the plastic outer covering is worn away by contact with the rotor the inner copper contact provides a path to ground for the voltage when it touches the rotor. Replace sensor when the brake pads are replaced; many aftermarket pad sets come with a new sensor installed.
Instructions
1

Place wheel chocks behind the rear wheels of the Mercedes and set the parking brake. With a floor jack, lift the front of the car, using the factory lift points located just behind the front wheel openings. Place jack stands under the front sub-frame to support the weight of the car and lower it onto the stands. Remove the front wheels using a lug wrench.

2

Locate the sensor. Each pair of brake pads on the Mecedes is equipped with one sensor in the pad. Unplug the wiring harness connector located near the front suspension. Unsnap the old sensor from the pad with needle-nose pliers--squeeze the small metal latches together while you pull the sensor from the pad.

3

Install the new sensor by pushing it into the pad until the latches snap into place. Hold the sensor in the opening on the pad backing plate as you route the wiring for the new sensor in the same manner the original was routed. Plug the new connector into the wiring harness.

4

Reinstall the front wheels and torque the lug bolts to 73 foot-pounds using a torque wrench. Raise the car off the jack stands and remove the stands. Lower the Mercedes to the ground and test drive the car to verify that the warning light is off.