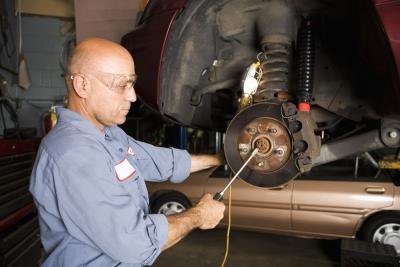 The 2000 Chevy Malibu comes equipped with a front disc and rear drum brake system that is similar in design to many mid-sized Chevy cars. This brake system is designed so that the front disc brakes supply approximately 80 percent of the stopping power used by the vehicle to stop. Replacing the front brake pads is a home repair project that a novice can perform in about an hour using basic hand tools
Instructions
1

Place the wheel chocks behind the rear wheels, then apply the parking brake. Raise the front of the car, using a floor jack positioned on the front sub-frame, until the front wheels are off the ground. Place a jack stand on each side of the sub-frame, and lower the car onto the jack stands.

2

Remove the front wheels, using a lug wrench to remove the lug-nuts, and place the wheels and lug-nuts aside to prevent tripping hazards.

3

Wedge a large screwdriver between the inside brake pad and the brake rotor. Pull on the screwdriver to pry the inside pad and force the caliper piston back into the caliper.

4

Remove the caliper bolts using a 14-mm wrench and slip the caliper off the caliper bracket. Remove the old pads from the caliper bracket.

5

Install the shims, attached to the old brake pads, on the new brake pads. Slip the new pads into place on the caliper bracket. Slide the caliper onto the caliper bracket, then secure it with the two 14-mm bolts previously removed.

6

Reinstall the wheels. Raise the Malibu off the jack stands using the floor jack, and remove the stands. Lower the car slowly to the ground and slide the floor jack out from under the vehicle.

7

Pump the brake pedal several times to expand the caliper and force the pads against the rotor. Test drive the car. The first eight stops should be moderate stops from 30 mph to nearly stopped with at least 30 seconds between stops. This burnishes the new pads and helps prevent brake noise.