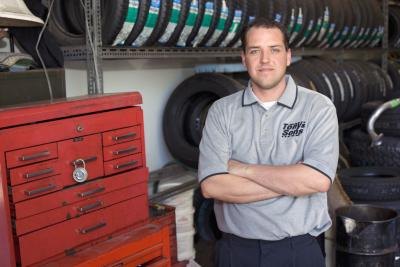 One of the biggest issues facing any mechanic when installing a new master cylinder is the problem of air getting in the system. Whenever you perform any kind of repair work that involves disconnecting hydraulic lines, air inevitably gets into the system and has to be bled out. In a job such as a master cylinder replacement, a new master cylinder that hasn't been primed introduces a large amount of air that is difficult to remove. To avoid this, it is best to prime your master cylinder before installation.
Instructions
1

Place the new master cylinder into a bench vise.

2

Use a level to make sure that the master cylinder is horizontal and then tighten it into place with the bench vise. Be careful not to over-tighten the master cylinder because this could cause damage. Tighten it just enough to stay in place.

3

Screw the threaded ends of the plastic fittings that came with the bleeder kit into the holes on the master cylinder.

4

Fit the hoses from the kit onto the smooth ends of the plastic fittings.

5

Place the hoses into two reservoirs full of new brake fluid. Either clamp them so that they cannot move or have someone hold them for you. This is done to keep the hoses from coming out of the reservoirs and spraying out brake fluid or taking in air.

6

Use a large Phillips screwdriver to gently push the piston of the master cylinder in about 1 inch and then let it go until it returns back to the normal position. You will notice air coming out of the hoses in the form of large bubbles.

7

Repeat Step 6 until the bubbles coming out of the hoses become smaller and smaller and eventually disappear. This could take up to 20 repetitions of Step 6, so be patient. Once this is done, remove the hoses and plastic fittings.